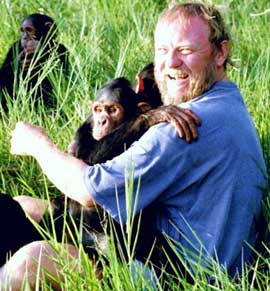 There's a lot to be said for that
'animal attraction'!
Rwanda - Location??
ABOUT - Peter Comley Guided Safaris
I would like to invite you to join me on safari. Where? Anywhere really, because I love to explore, but Africa is my home and it is also the continent where I have led many safaris over a career spanning thirty-five years. During that time I have been based in Botswana and legendary places like the Okavango, Chobe and Kalahari form my backyard. I have also been privileged to trek mountain gorillas on every mountain and in every country that they occur, to climb Kilimanjaro to the top of Africa, to be surrounded by hundreds of thousands of animals in the Serengeti with no-one around but my group, to search for hippos surfacing in the Atlantic, to be the first white man to pole a mokoro from the top to the bottom of the Okavango, to imagine tens of thousands of Zulu warriors surrounding an outnumbered British force on an open plain and many, many more.
I have included some comments on some of the places where I have guided and I have, through my Shamelessly Unconventional Safari Company, made some suggestions for places on my personal bucket list.
Whether trekking on foot, carrying a backpack or ultimate luxury is what you are looking for, if it is an adventure, I am keen. If there is anywhere in Africa that you would like to visit but would prefer to be with an old Africa hand then please drop me a line and we will look at possibilities.